Pins are saved using cookies. Deleting them from your browser will delete your preferences.
You have not added any pins to your favorites. Use the pins on the web pages in question to add them.
On November 23rd, LFIS was named Best Hedge Fund Group at the Hedge Funds Review European Performance Awards 2017. These awards celebrate the best of Europes hedge fund industry and winners are selected by a jury of asset management peers, leading consultants and journalists. Hedge Funds Review specifically cited the significant progress LFIS has made since its launch and the success of our differentiated business model.
Since its launch in February 2013,LFIShas seen assets under management grow to $9.4 billion(1). Both our flagship credit and premia strategies have been recognized repeatedly by the industry and peers for their market-leading risk-adjusted performance. LFIS client base now extends throughout Europe and to Asia and North America.
This success testifies to the trust our clients have placed in us. We would like to address a special thank you to all of our investors and partners for their support.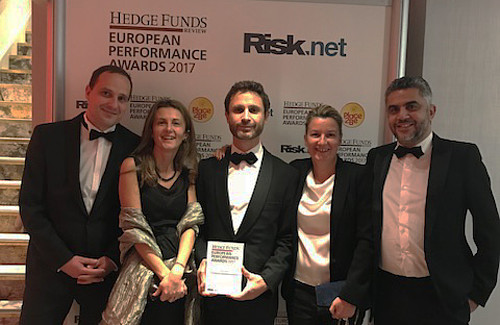 (1)Assets under management figures are unaudited and as of October 31, 2017.
La Française Group provides access to the expertise of a number ofasset management companiesaround the world. To provide you with the most relevant information, we have developed an interface to present the full range of products available for your investor profile and country of residence.
p class=new-disclaimer__legal-noticeBefore consulting this website, for your protection and in your interest, please read the a href=en/legal-notice/ target=_blankdisclaimer/a and a href=en/regulatory-information/ target=_blankcurrent regulations/a carefully. This information explains certain legal and regulatory restrictions which apply to individual and professional investors according to local law. By accessing this site, in my non-professional or professional capacity, I acknowledge that I have read and accept the terms and conditions of use. Pursuant to the application of the European Markets in Financial Instruments Directive (MiFID), please state to which category of investor you belong:/p
p class=new-disclaimer__legal-noticeBefore consulting this website, for your protection and in your interest, please read the a href=en/legal-notice/ target=_blankdisclaimer/a and a href=en/regulatory-information/ target=_blankcurrent regulations/a carefully. This information explains certain legal and regulatory restrictions which apply to individual and professional investors according to local law. By accessing this site, in my non-professional or professional capacity, I acknowledge that I have read and accept the terms and conditions of use. Pursuant to the application of the European Markets in Financial Instruments Directive (MiFID), please state to which category of investor you belong:/p
By continuing browsing on this website, you accept the use of cookies and other tracing devices s as to allow you to receive information suited to your profile, facilitate information sharing on social networks, guarantee the best browsing experience possible and to create statistics. To find out more, we invite you to consult our Privacy and Cookies policy.Find out more.