Why Arent These Closed-End Funds Getting More Love? Part 2: Macquarie Global Infrastructure Total Return Fund
Macquarie Global Infrastructure Total Return Fund (MGU)
ETF investing, closed-end funds, dividend investing, portfolio strategy
Part 2 of Why Arent These CEFs Getting More Love?
Macquarie Global Infrastructure Total Return Fund hasnt had the best run YTD, but its longer-term performance is solid.
A conservative distribution policy has allowed the fund to grow its NAV (and distribution).
Please note: This article was first released to members ofCEF/ETF Income Laboratoryfour weeks ago, so data may be out of date. Please check latest data before making investment decisions.
As long-time members will know, one of the more useful services provided by CEF/ETF Income Laboratory is to warn when a closed-end fund (CEF) becomes overvalued on the basis of absolute and relative valuation metrics, allowing members to (1) lock in juicy profits arising from premium/discount valuation changes alone, (2) sidestep potentially major capital losses if, or when, the premium/discount valuation reverts, and (3) rotate into a more undervalued CEF in the same sector in order tocompound income on steroids. In many cases, funds appear to become overvalued for no rhyme or reason at all…
In this article, Id like to do a reverse type of analysis: spotlight three CEFs that we think deserve more love from investors!
This is the second part of the series. The first part of this series is here:Part 1: Aberdeen Total Dynamic Dividend Fund(NYSE:AOD).
Macquarie Global Infrastructure Total Return Fundis a $315 million global infrastructure fund from Macquarie. It is categorized as a utilities fund by CEFConnect. It charges 1.71% in baseline expense ratio and uses 30% leverage. It was incepted on August 26, 2005.
At current prices, MGU yields 7.60%, trades with a discount of -12.75%, and has a 1-year z-score of -0.7.
InWeekly Fund Spotlight: Whats In Your Utilities CEF?, I further categorized utilities CEFs into sub-categories based on their geographical and asset allocation, as reproduced in the table below. We can see that MGU is quite unique among the utilities CEFs, being the only fund that is both mostly global (50% U.S.) and purely equity (95% equity).
According to the latest factsheet from the fund, MGU had 35.4% of its holdings in the United States, followed by Canada and Australia both at 10.4%, then Italy (9.5%), and United Kingdom (8.8%).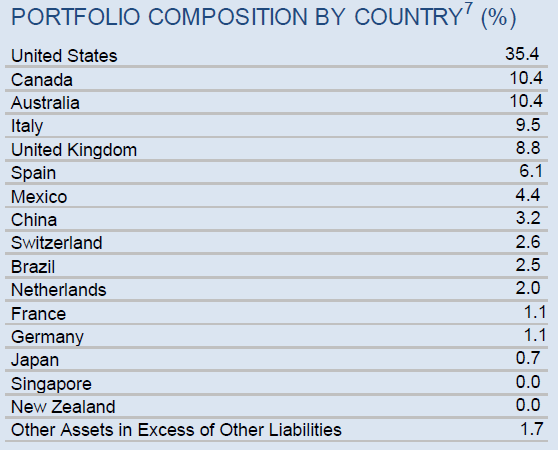 In line with its infrastructure mandate, the fund has its highest allocations to pipelines (30.9%), electric utility (16.6%), toll roads (10.8%) and airports (10.0%).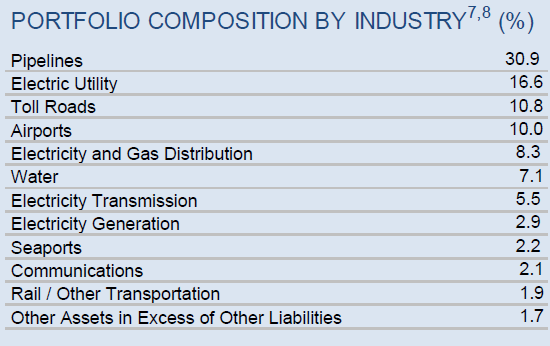 The top holdings (as of its latest semi-annual report) are shown below. The three largest holdings are Cheniere Energy (LNG), Enbridge (NYSE:ENB) and Sempra Energy (SRE).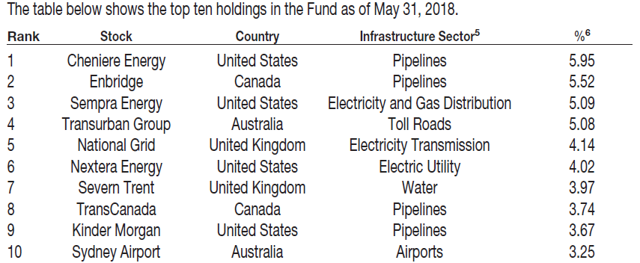 For the peer group comparison with MGU, I restricted the selection to the global utilities CEFs. This is because with U.S. stocks racing (again) to new record highs, comparing the performance of MGU with the purely domestic funds such as Reaves Utility Income Fund (UTG), DNP Select Income Fund (DNP) and Gabelli Utility Trust (GUT) would not be an entirely fair comparison.
BlackRock Utility and Infrastructure Trust (BUI)
Duff & Phelps Global Utility Income Fund (DPG)
Macquarie/First Trust Global Infrastructure/Utilities Dividend & Income Fund (MFD)
Wells Fargo Advantage Utilities and High Income Fund (ERH)
Heres the statistics for the funds from the restricted peer group, sorted in descending order of one-year NAV total return.

As the table above shows, MGU has the widest discount of -12.75% out of this group; clearly it isnt getting much love from CEF investors! It also trades with a one-year z-score of -0.7, indicating that it is slightly cheaper than its historical average. The only fund cheaper on a z-score basis (but not discount) is the Macquarie/First Trust Global Infrastructure/Utilities Dividend & Income Fund, which has a z-score of -1.1 but a narrower discount of -6.03%.
Lets now discuss performance. The data shows that MGU has had the second-worst one-year NAV total return of -7.25% out of the peer group, only beating MFDs -8.68% return. However, its not quite as bad as it looks. MGU has a heavy focus on infrastructure (pipelines, airports, etc.) whereas the other CEFs have a more balanced split between infrastructure and utilities, or are purely focused on utilities. As the chart below shows, global utilities (iShares S&P Global Utilities ETF (JXI)) has had much better YTD performance than global infrastructure (iShares Global Infrastructure ETF (IGF)), so its not surprising at all to me that MGU has performed worse than the other CEFs over the most recent time period.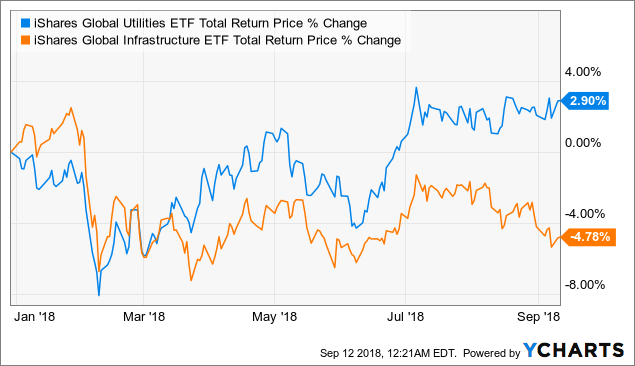 MGU does better over long time periods. Over 3 years, its +7.40% annualized return ranks 5th out of the 7 funds. Over 5 years, its +6.86% annualized return ranks 4th, while over 10 year, its +7.31% annualized return ranks 2nd out of 5 the funds with at least 10-year histories.
Moreover, MGU shows superior performance over global infrastructure ETFs such as the aforementioned IGF or the SPDR S&P Global Infrastructure ETF (GII), which are perhaps more appropriate benchmarks for the fund (Note: MGU does use 30% leverage while the ETFs are unleveraged, which will boost the performance of MGU during bull markets).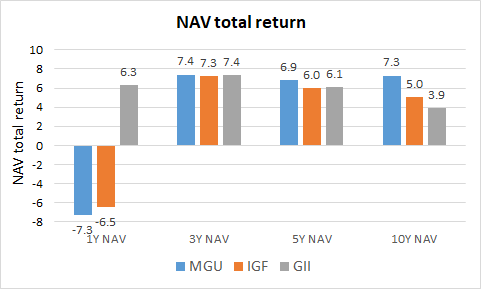 Basically, what Im saying is that while I dont have any special insight into the predicted performance of global infrastructure going forward, I would not be overly concerned about the fact that MGU appears to have underperformed the other utilities CEFs over the most recent one-year period.
We can also see from the table above that MGU is the fund whose price has lagged its NAV the most over the past year (-2.62%). On the other hand, Cohen & Steers Infrastructure Fund has seen price outpace NAV by +7.49%. On this basis alone (i.e., not considering other factors), I would be viewing MGU as a more attractive buy candidate right now than UTF.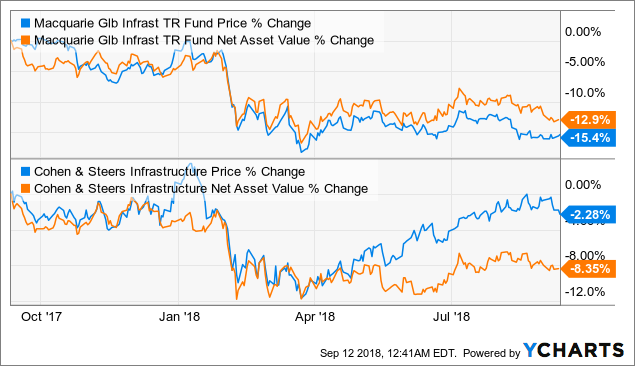 Finally, it is important to note that MGUs relatively conservative distribution policy has allowed it to grow its NAV much better than its peers, with the exception of UTF with which it was about equal since late 2011 (chart only goes back to the inception date of the newest fund, BUI). Over this time period, MGU has grown its NAV by +38.34% (excluding distributions) versus UTFs +39.03%, while ERH is a distant third at +8.96%.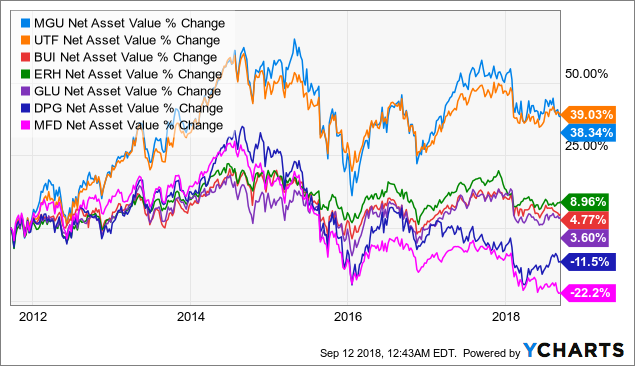 On a price total return basis (including distributions), MGU is again ranked 2nd out of the peer group at +111.2% return, trailing only UTF at +152.8%. Interestingly, note that MGU had kept pace with UTF until the start of 2018, when its fortunes in the premium/discount department started diverging from UTFs.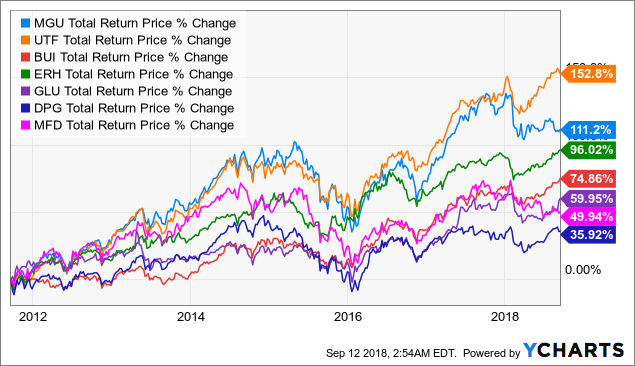 In an environment that is seeing CEFs cutting distributions left, right and center, it sure is nice when one of the funds in our portfolios announces a hefty dividend increase, isnt it?
Last week, MGU announced a boost in its quarterly distribution from $0.37 to $0.42 per share, good for a 13.5% increase. I also commented on the raise in our latestWeekly Closed-End Fund Roundup.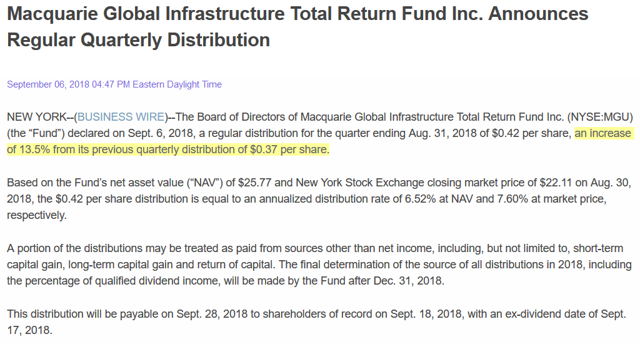 Is the higher distribution secure? According to the MGUs latest semi-annual report, for the six months ended 5/31/2018, the fund received $0.67 per share in net investment income, against $0.74 in distributions, for a coverage of 91%. However, it should be remembered this issue is complicated by the funds holdings in MLPs, which can pay their distributions as ROC. In my view, for equity funds, the most important metric to consider is whether the NAV is stable (or rising), and here MGU passes the test.
At the new distribution of $0.42 per square, the coverage ratio falls from 91% to 80%. Again, the rising NAV should support the distribution, for now.
Despite its poor performance YTD, MGU is one of the better utilities/infrastructure funds out there. Its conservative payout policy has allowed to grow its NAV more effectively than other funds in the peer group (except for UTF, with which it is about tied). It recently boosted its distribution by 13.5%, which is supported by a stable NAV. I view MGU as a solid long-term holding for a portfolio, but note that it is anaggressivefund (i.e., high risk/reward) due to its high infrastructure component and significant international allocation.
We own MGU in ourTactical Income-100portfolio at a ~5% allocation. The buy under discount is -10% while the sell above discount is -2%, so the fund currently has a buy rating.
Were currently offering alimited time only free trialfor the CEF/ETF Income Laboratory with a20% discount for first-time subscribers. Members receive an early look at all public content together with exclusive and actionable commentary on specific funds. We also offer managed closed-end fund (CEF) and exchange-traded fund (ETF) portfolios targeting ~8% yield.The sale ends onOctober 31, 2018, so please consider joining us by clicking on the following link:CEF/ETF Income Laboratory.

Disclosure:I am/we are long MGU.I wrote this article myself, and it expresses my own opinions. I am not receiving compensation for it (other than from Seeking Alpha). I have no business relationship with any company whose stock is mentioned in this article.